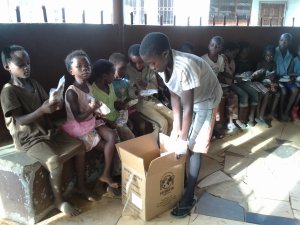 by
The Salesians of Don Bosco in Zambia through the Planning and Development Office have been distributing food supplements with the support of Salesians Missions Office, New Rochelle and Stop Hunger Now (SHN). In the first half of 2016 we received and distributed over 3,000 packages of fortified rice to the Sick, vulnerable and the aged in Zambia. The Rice is packed with soya been and other natural vital ingredients, easy to cook and very nutritious. This distribution has been well received by the people in the villages and shanty towns in Zambia, particularly the poor families in Bauleni Township and village children in rural area like Lufubu in the Luapula Province.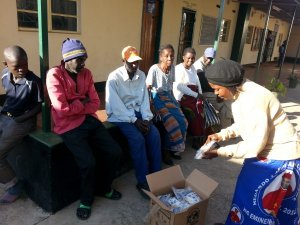 Together with the food distribution, items such as clothes, bathing soap, sports attires office furniture and water purifiers that are sent by the Donors have reached the needy people under the Gift In Kind (GIK) programme ; These items are distributed to the very vulnerable and sick people by the Home Based Care of the Archdiocese of Lusaka, Bauleni Home Based Care, Kalingalinga Hospice, St Barnabas Hospice, Chilanga Hospice, Cheshire Homes, Williams Home and St Luke Mission Hospital in Mpanshya.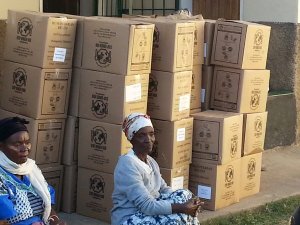 Many households and benefiting in this venture are people who live below the poverty line which makes it difficult for them to be healthy and energetic and fend for themselves. The drought that has hit Zambia in the last farming season and the rising cost of living in the country is a big challenge to these people to make ends meet for the family. Among those receiving this support most living in the rural area and are struggling to find food. While it hoped that this is not a permanent solution to the problem it is however a relief that cannot be denied to alleviate the suffering of people.
The distribution list from January 2016 to August 2016 is as follows:
DESCRIPTION ITEM
RECEPIENT

RICE

CLOTHES

FURNITURE

SOAP

BUCKETS

MAKENI COMMUNITY

295

2

2

9

0

BAULENI HBC

172

4

2

3

0

KALINGALINGA HBC

150

2

0

3

0

WILLIAMS HOME

66

2

0

3

0

MAKENI HBC

100

1

0

3

0

ST. BANABAS

100

2

0

3

0

ST. LUKE MISSION HOSPITAL

300

2

0

3

0

ARCHDIOCESE OF LUSAKA

450

1

0

3

0

FMA SISTERS – LUWINGU

60

1

0

3

0

FR. BOSCO MULENGA

6

1

0

1

0

CHESHIER HOMES CHAWAMA

70

0

1

0

0

FR. WOJCIECH KOZLOWICZ

75

0

1

0

0

MOTHER OF MERCY HOSPICE

70

0

0

0

0

BAULENI – CO-OPERATORS

0

0

33

0

0

KABWE DIOCESE HEALTH

80

0

8

0

0

DIVINE PROVIDENCE CON. SCH

50

0

0

0

0

BAULENI COMMUNITY

0

0

3

0

0

LUFUBU COMMUNITY

100

1

0

2

20

TOTAL

2144

19

50

36

20
DISTRIBUTION STAFF FAMILIES
ELIZABETH MULENGA
 

10

11

0

1

0

MARGARET SIMWABA
 

10

13

0

1

0

GETRUDE SIULUTA
 

10

10

0

1

0

KENNETH KONDELELA
 

10

11

0

1

0

JACKSON MUMBA
 

10

10

0

1

0

JOACKIM SIYANI
 

10

14

0

1

0

TOTAL

60

69

0

6

0
Another consignment was received at the end of August which will commence distribution in September
This relieve program is made possible through the support of the Salesian Mission Office in New Rochelle, the donation from Stop Hunger Now (SHN) and Gift in Kind (GIK) has also reached thousands of children and young people in the Salesian Missions in Zambia and Malawi.
The meals supplement and material are contributing to the enhancement of education and formation of children and youth and is an added value to the recreational activities in the Salesian Youth Centres.
The food and items are distributed to the children in the Children Centres and this serves as an incentive for families to send their children to the Salesian Youth Centres after school where they participate in various activities. As a result of these donations our Centres have become attractive and popular to the children. Access to nutritious meals allows youth to be better prepared to take part in school activities and focus on their education.
This program for young people and vulnerable families is a way to tackle the challenges faced by most beneficiaries of SHN and GIK which include but not limited to the following:
• Luck of adequate food due drought with low crop harvest
• Lack of money for patients on medication to access nutritious meals
• Limited health care facilities coupled with lack of adequate medicines
• High levels of unemployment and levels of poverty
• Increased number of teenage pregnancies school drop outs and HIV infection
• Excess beer drinking among the youths and patients owing to frustration
• Prostitutions among the infected and affected in communities
• Tendency of young people to engage in anti-social activities
Linda Ngandu, a 40 year and single mother of three (3) Said; "The food being provided is nutritious and it gives us energy. I like to would appreciate Stop Hunger Now for the food….. Please speak to the donors for us that we really appreciate their support." – translated from a local dialect.
In some centres and schools the fortified rice has been given a nick name VI MUSANINA-in local language means "you will gain weight or you will grow healthy", by the school going children in the oratory. In the local context of mal-nutrition and sickness to gain weight is positive and it is taken as a compliment.
The Salesians of Don Bosco and the Planning and Development Office is convinced that this relief programme is benefiting and helping those in dire need of emergency support, while long lasting and sustainable solution should also be considered. Though this programme is successful, exiting and attractive we have equally faced a number of challenges.
• Costs of clearing and transporting of the container from the border to our storage facilities
• Difficult in receiving reports from the stakeholders participating in the distribution
• Such distribution can create over dependency rather sustainability
• Paying Administrative and Staff costs
• Sustaining the Relieve services and creating self-sustainable activities of the beneficiaries.
According to the information from the website of the Salesian Mission Office, this programme is going on in more than 130 countries. In Africa countries like Uganda have benefited from this programme www.salesianmissions.org/news/uganda-salesian-missions-coordinates-delivery-stop-hunger-now-meals-vulnerable-youth. This means that the Organisation has a large network and experience to ensure that the aid reaches those who need the most. This programme has been running in Zambia for few years now and the Planning and Development Office have made effort to get the partners Organisation to ensure that the aim of this support is achieved and maintained.
We express our gratitude to the various donors and benefactors who have made it possible for us to reach out to a number of vulnerable people particularly children and youth. We thank The Salesian Mission Office, Stop Hunger Now and Gift in Kind for the continual support. It also known that many volunteers give their time to prepare and pack the items for transportation from America to Africa, they deserve the highest recognition for putting their love and compassion into action. We also appreciate the local partner organisations and staff who work hard to do a tangible service to the needy and hope for a better society.
Salesians of Don Bosco, Planning and Development Office – Lusaka
Recommended Posts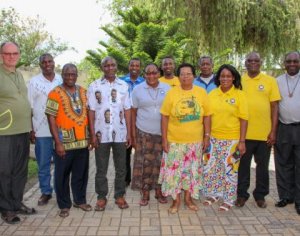 March 21, 2019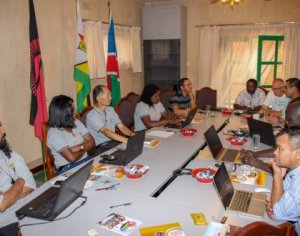 March 11, 2019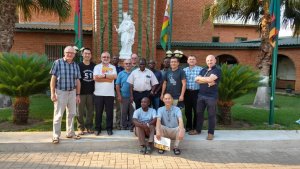 October 04, 2018